Top Content Title
This is an additional section to be able to add content
Learn to Skate at Woodstock Skating Club
CanSkate is Skate Canada's flagship learn-to-skate program, designed for beginners of all ages.
When you sign up for CanSkate you will be in a program that focuses on fun, participation and basic skill development. You will earn badges and ribbons and other incentives as you learn fundamental skating skills.
Lessons are given in a group format and led by NCCP Certified Skating Coaches, who are assisted by trained Program Assistants. Our coaches are very focused on proper technique and will devote time to the details of skating, to develop skaters' agility, balance and control.
The small group setting allows skaters to progress at their own rate and coaches make sessions active using teaching aids, music and a wide variety of activities that create a fun environment and promote learning.
CanSkate is the feeder program to all other Skate Canada Skating Programs such as CanPower (power skating), STARSkate (figure skating) and Synchronized Skating.
Our sessions are offered throughout the year, and are taught by professional coaches who are specially trained and certified through the National Coaching Certification Program (NCCP).
Skaters must wear a CSA-approved hockey helmet up to and including stage 5. Please remember that bicycle helmets are great for biking but don't protect the back of your skater's head, which is why hockey helmets are so important. Hockey helmets are tested and designed to protect your skater from falls on ice. Look for this CSA-approved sticker and encourage your little skater to get on the ice and have fun, knowing that they are safe.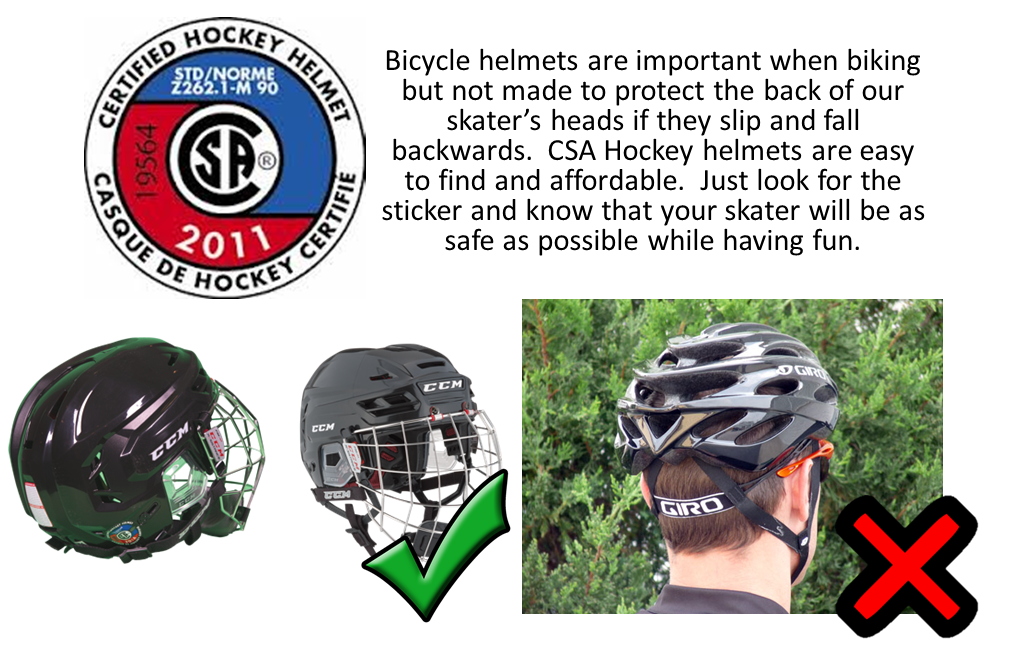 Participants must purchase their own skates/helmets and must wear gloves during the duration of the class. NB There are no skate rentals onsite but there is a rental location in Ingersoll available. Butterworth's does skate sharpening, skate rentals and new skate sales. Contact Cheryl & Steve for more information at 519-872-0431 or via email butterworth.sc@gmail.com.
Caring for your new Skates, Boots or Blades
Proper Fitting of Skates
Proper fit is essential to he performance of your skates. While seated, slide the skate on the foot and lightly kick your heel down into the back of the boot. Lace as you would for skating. New skates should feel snug in the heel, arch and ball area to support the foot. To ensure heel fit is correct bend knees, trying to lift the heel out of the heel cup. There should be very little movement. Fitting too large is the primary cause of premature breakdown.
General Boot Maintenance
Always wipe moisture from the interior and exterior of your boot after every use. Let your boots dry between skating sessions. Never use a hair dryer or put your boots near a heating register. This will dry the natural oils in the leather, causing it to dry and crack. Loosening the laces and pulling the tongue open allows greater air circulation and better drying. You may stuff newspaper or paper towels into your boots to hasten drying. Damp skates stored in your carry bag will promote the growth of mold and mildew, causing the leather to deteriorate.
Leather Outsole Skates
All leather outsoles should be treated with a water repellent. This will help prevent water from separating the layers of the heel and sole and will help prevent discoloration and rotting. Beeswax or commercial silicone products are good suggestions for this purpose.
Skate Blades
Skate guards should always be worn when not on the ice to protect the sharpening of your blades. Always wipe the moisture off your blades. As the blades warm up you will need to wipe them again to make sure they are dry. Use soft blade covers to protect your blades between skating sessions.
Bottom Content Title
This is an additional section to be able to add content