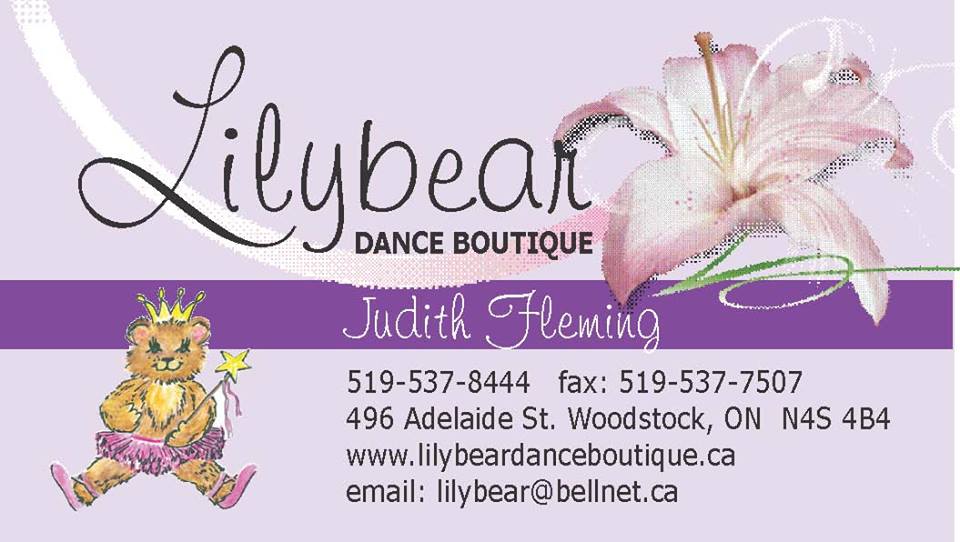 Judith is an award winning dancer who has trained, competed and danced throughout Canada. She started dancing in a variety of disciplines at the early age of three, from Ballet to Highland! Judith taught and choreographed dance for many years. She is a Registered Early Childhood Educator, AECEO Certified which brings a unique and extensive grasp of the needs of both children and dancers. With combining both careers and translating her love of children and dance, the active life , mix in all her favourite things and following ones dreams, a new venture created Lilybear Dance Boutique.

Lilybear Dance Boutique, established in March 2007, offers a diverse selection in the Boutique! We like to encourage our customers to "Follow Your Dreams" with the latest fashions from tiny dancers to adult professionals!
Skate Wear
Skating is Mondor on Ice, Jerry's Skating World Chloe Noel and Centre Ice Supplies. Order your skating dress! Match it to your music! Tights, skate guards, laces, soft cloth blade buddies, boot covers, gloves, jels, skate tape & spinners, skirts, jackets, leggings in stock!
Jump & spin into a new skating outfit today!
Accessories & Gifts
Competition jewelry, tiaras, ballet slippers, key chains, dance keychains, skater pins, ballerina bears, dance posters, magnets, dancer banks, figurines, headbands, eyelashes, stain glass & so much more! Need a good ballet bun? We've got the best accessoreis! Whirl a style, hair nets, pins & elastics!
Bags & Garmet Bags
Dance & gymnastic bags by Sassi, Dasha, Bloch, Capezio, Danshuz, Tutu Bags, Rac n Roll Bags! Skating bags by Jerry's & Zuca bags, GRIT SK1 Figure Skate Tower! Additional accessories for the competitive dancer including Rac n Roll makeup, garment bags and mirrors!
Get yours today and stay organized!
Need a Rac n Roll or a Zuca Bag for Christmas?
Shop in-store or make a wish list online using the websites below and Judith will place an order from the following websites below:
www.mondor.com Canadian Company
www.jerryskate.com Canadian Company