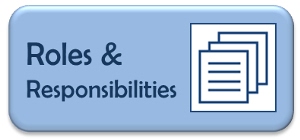 JOB TITLE

RESPONSIBILITIES

CHAIR

President

Responsible for all Club operations.
Must be familiar with H.O.M.E Region and Skate Canada rules for conducting a proper meeting.
Must have and be familiar with Skate Canada Rule Book and Club Constitution
Be familiar with all club programs
Act as liaison between Club, Skate Canada and other organizations
Be available to be a member of, or advisor to, all Club Committees and Sub-Committee.
Set meeting dates, agendas and chair meetings.
Sign all legal documents on behalf of the Club.
Attend Ice Allocation meeting with the 'Arena Chair'.
Recognize skaters' accomplishments
Chair Hiring/Negotiating Committee and ensure that Skate Canada memberships are up-to-date and paid and that certification is current and copy on file with Club
Responsible for sending out Letters of Intent to coaches and to ensure written contract is in place for each coach, including all coach qualification documents

Santina Somers

Vice-President

Substitute as Chair in absence of President
Assist in preparing coaches' contracts.
Train for the position of President.

TBD

Past President

Assist the Board in maintaining continuity in Club operations.
Act as an advisor.
Co-Chair Nominating Committee and/or Constitutional changes.
In the event of a vacant position, the past president can assist other board members in fulfilling the duties of that position.
Assist in training board members in new positions.

Jim Stevens

Secretary

Keep accurate minutes of all Board meetings, and distribute to board in a timely fashion.
Issue all notices for Board, General or Annual meetings.
Book venue for monthly meetings.
Initiate and reply to correspondence.

Heather Smith
Treasurer

Responsible for ensuring accurate bookkeeping.
Report to Board on Monthly basis, the financial position of the Club.
Act as Signing authority for the Club for all legal documents and financial business.
Prepare budget for approval by the Board of Directors (based on prior year income & expenses).
Pay all expenses under advisement of the Board.
Prepare year-end financial statements and deliver them to the appointed Reviewer/Auditor.
Work with Registrar/membership Chair to accurately report membership
Ensure deposit and accurate recording of all deposits including registration, bond cheques, fundraising, guest fees, donations and carnival.

Stephanie Cornwell

Public Relations

Publish newsletter (approx. 4 times per year)
Contact media for special Club events
Assist with Web page if necessary
Prepare ads for newspaper
Create flyers for registration and other events

Fundraising

Develop a marketing/fundraising plan at the beginning of the year.
Present ideas to Board for approval.
Coordinate fundraising efforts.
File reports for fundraising projects.
Submit financial information to Treasurer.
Ensure all money raised from each activity is forwarded to Treasurer and signed-off by both Treasurer & Fundraising Chair to ensure accountability of funds.

Heather Smith

Ice Show Chair

Coordinate Ice Show with Club coach.
Begin working on costume ideas in September.
Book lighting in early fall, if necessary.
Book photographer and set picture date for February in consultation with coaches and board.
Ensure booking of ice/changes rooms for picture, rehearsal, and ice show days.
Communicate with parents regarding ice show details/expectations/costume sizes, etc.
Organize volunteers.
Arrange decoration of backdrop, boards and lobby for carnival day.
Create newsletters and information for parents
Help organize costume fittings and collect money.
Ensure all monies/receipts are delivered to the Treasurer in a timely fashion.
Assist coaches as necessary.

Erin Prangley &

Heather Bell-Cordingley

Convener / Badges Coordinator

Organize volunteers to convene Pre CanSkate, CanSkate and Power Skate sessions
Review list of duties and information with Conveners
Update badge and test cards
Ensure all supplies for the CanSkate Session are well stocked (e.g. pencils, incentive stickers, etc.)
Stock supply of badges
Coordinate with coaches for 'special day' events (e.g. Valentines, St. Patricks, Easter, Christmas, etc.).

Santina Somers

Test Chair

Set test day dates for year in September
Contact judges
Contact coaches for skater test submission
Set ice schedule for tests
Produce test envelopes for skaters and collect fees.
Forward fees to Treasurer for deposit; and arrange for cheque payable to Skate Canada.
Forward cheque for test fees along with test summary sheets to Skate Canada: to ensure that all evaluators receive their appropriate mileage at the end of each test session.
Maintain current and accurate club records of all tests, both for the Club members and out-of-club members who test at the Club.
Assist judge on test day
Arrange for food and change room for judge

Membership/

Registration

Work with the Treasurer and UPLIFTER program
Ensure skaters and Board members are registered with Skate Canada
Develop the brochure for Summer and Fall programs (with committee of the board as a whole)
Provide up-to-date membership lists for the Session convenors, Board and Coaches.

Stephanie Cornwell (Uplifter)

Coaches

Chosen by all club coaches to be a voting member of the Board of Directors
Act as liaison between Coaches and Board
With consultation from the Board, ensure appropriate coaching staff is under contract.
In the absence of the coaches rep., bring any information or concerns from coaches to the monthly meeting.
Ensure all coaches are registered with Skate Canada and that qualifications are up-to-date.
Work with President and Registration Chair regarding Season scheduling.

Beth Lochhead

Region Delegate

Act as liaison between Club and HOME Region
Attend monthly Region meetings
Work on core committee for Region hosted competitions

Jim Stevens

Arena Liaison

Act as the liaison with the Arena complex.
Attend Ice allocation meeting with President.
Ensure Ice scheduling as determined by approved Season schedules.

Santina Somers

Program Assistant

Organize PA's to assist on Pre CanSkate, CanSkate and Power Skate sessions
In coordination with Coaches, organize P.A. clinic before start of regular season.
Co-ordinate PA's to attend the Region training seminar
Provide sign-in booklet for each session and check for accuracy;
Assist Convenors with CanSkate set-up as required.
Coordinate year-end Christmas Party/social events for PA's.
Rev – April 2018