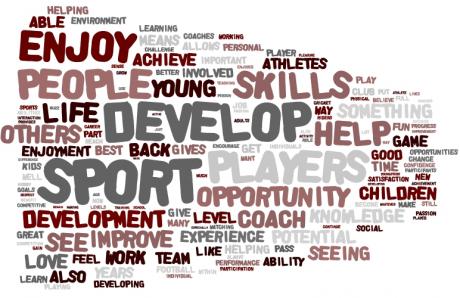 Vision For Coaching
As Skate Canada Professional Coaches we believe coaching is a privilege earned through our commitment to:
Competently and professionally serving the athlete as a role model, teacher, coach, athlete manager, strategist, and volunteer.

Developing a well-rounded individual and creating a positive and safe sport environment that will promote physical development and well-being, mental development and positive self image, social skills development, creativity and artistic development, discipline, self-reliance and independence, and principles of fair play and good sportsmanship.

Providing quality service to and being accountable to the athletes, parents, clubs and schools, community, and Skate Canada.

Sharing knowledge with athletes, parents, coaching peers, clubs and schools, volunteers and Skate Canada.

Actively engaged in continuous improvement and education and overall professional development

Maintaining an open-minded attitude to new ideas and change.

Supporting the 2014-2018 Skate Canada Strategic Plan.

Conducting oneself in a manner that is befitting of a coaching professional and that is compliant with Skate Canada and ISU rules, regulations and policies.
Key Messages For Coaching
These messages were approved by the Coaching Development Committee to help guide coaches for the skating season.
Achieve a gold, silver, or bronze status in the Continuous Education Program

Further educate yourself on the Cumulative Points Calculation (CPC) judging system and the Long Term Athlete Development (LTAD) model

Take responsibility for your education and your business

Manage your athletes effectively

Develop healthy athletes

Earn the respect of others

Model, encourage and support ethical coaching behavior

Ensure a safe and welcoming environment

Anticipate and embrace change

Share information and embrace a team coaching approach
This Vision for Coaching and Key Messages was established by the Advisory Coaching Committee (ACC) in September 2000 and was revised and approved by the Coaching Development Committee in October 2014.
Coaches

Coaches are invaluable in the development of an athlete's skills. They are teachers and mentors for the thousands of young athletes they interact with in their day-to-day work. They work not only with athletes but also the athlete's parents in setting realistic goals and the training required to reach their potential and their goals. All Skate Canada coaches are required to be trained and/or certified in the National Coaching Certification Program (NCCP).
Becoming a Skate Canada Professional Coach requires planning and commitment to the profession. A certified coach is an experienced, skilled and dedicated professional. Coaches have a huge impact on the lives of their skaters and coaches always need to be aware of this fact and conduct themselves in a professional manner. Coaches need to constantly educate and update themselves in order to be effective.
Currently, all coaches who work at Skate Canada member clubs and Skating Schools must meet the minimum criteria as outlined in Rule 2401 of the Skate Canada Rule Book and other provisions set from time to time by the Skate Canada Board of Directors, and be registered professional coaching members of Skate Canada.
Meet Our Coaches

Beth Lochhead

Beth began skating at the age of 9 and has been coaching with Woodstock Skating Club for 39 years. Beths' coaching credentials include:

NCPP Level 2 Provincial Certified

Level 3 Theory and Technical

Gold Medallist Dance, Skills

Lisa Ens Memorial Dedication to Coaching Award 2012

Base coach for Provincial Bronze medalists Ice Dance team

Challenge Ice Dance Competitors coach

Team Velocity Member for 14 years - Adult II National Champs 2011, Provincial Champs 2012

Current member EnergICE - Adult II

Beth can be found coaching PreCanSkate to Senior levels, bringing her expertise to all our skaters. She is also a member of WSC Executive.

When not at the arena Beth enjoys spending time with her husband Tedand son Grayson.

I know how fortunate I am to be able to say I've spent most of my life doing what I love to do......Skate. Certainly any of my own skating successes pale in comparison to the excitement of watching my students succeed and reach their own personal goals. I'm truly blessed.

MANTRA

Practice like you plan on performing
Dawn Brokers
519-535-1167
atdawns@yahoo.com
*CanSkate Trained
*Certified Regional Coach
*I enjoy coaching all disciplines, specializing in Dance and Skills
*I enjoy my own training, continuing my education and participating in other sports and activities which lends itself to offering many levels and styles of teaching and learning to all skaters!
Danielle Hanchiruk

•Junior,Novice, Pre-Novice National Competitor

•Triple Gold medalist-Freeskate,Skills,Dance

•Competitive experience-Ballet,Jazz,lyrical, hip hop

•Level one certified Coach

•10 years Coaching experience

•Bachelor of Arts Degree from Western University

Lindsay Stieh

I am (waiting on marking of assignments) a Provincial Skate Canada Trained Coach. My figure skating dreams started when I was 3 years old at the Norwich and District Skating Club. I knew from a young age that I wanted to be a figure skating coach so at 16 I took the CanSkate Course. I started coaching in Norwich and was a long time Program Assistant. My dreams and goals became larger and I needed to skate in a more competitive club, so I started at Preston Skating Club, which allowed me to coach and gain valuable 6 years experience there.

My coaching philosophy is for skaters to set goals, reach them, and have a lot of fun along the way! I coach in a positive, friendly, and encouraging manner to achieve skater success. I tend to focus on technique, freeskate, interpretive, choreography, stroking, and fitness.

I have different payment plans available to suit most skaters to get the most out of their private lesson time. I offer small group lessons (combining one lesson between multiple skaters and/or skaters pooling their lessons together to get longer lessons) and private 1:1 instruction.

You can contact me by e-mail at lindsaystieh@gmail.com